AMMA: Designing a companion app that makes asthma management more delightful
Developed by the Google.org Healthcare Initiative, AMMA (Asthma Monitoring and Management App) is a wearable health tracking and monitoring patch for chronic asthma sufferers. The AMMA technology can measure breathing patterns and other vital stats, detect asthmatic symptoms and early warning signs of a possible attack.
To design a companion mobile application that will make it easy for wearers to record and track information from the AMMA device. In addition, to design an experience that does not add to the distress of the chronic condition, yet makes the process of asthma management a little more delightful.
The project spanned across 4 weeks of 20 hours each week.
To begin, I sought to gain an in-depth understanding about asthma (as I knew nothing about the subject prior to this!) and insights to the needs, motivations and lifestyles of the users that I was going to design for. After some preliminary research, 
I conducted interviews with 3 asthmatics (with moderate to severe asthma) as well as sent out an online survey to family, friends and through asthma forums.
User Research Key Takeaways
1. Aspects of asthma monitoring are rather standard and don't vary much between age groups.
2. Monitoring and tracking asthma triggers; symptoms; breathing patterns; and type, timing and frequency of medication were ranked as the most important aspects of asthma monitoring
3. The most common triggers of Asthma are air-borne allergens, exercise, irritants, upper respiratory infections
4. Majority of asthmatics, especially long time sufferers do not monitor their asthma regularly as they are well accustomed to their conditions and know what to anticipate.
As such, AMMA would be most useful for a recently diagnosed severe asthmatic who would want to understand how to live with and improve their condition.
Analysing some of the main monitoring apps revealed gaps in the comprehensiveness of features, as most competitors covered only parts of the key aspects of asthma monitoring. There was also a lack of an intuitive dashboard that provided the user with meaningful information easily understood at a glance.
In addition, the app could possibly be more personal and user friendly, away from the stereotypical medical and functional UIs and tone of voices of healthcare apps.

From the user research takeaways and validated assumptions, I created a persona based on a newly diagnosed sufferer with moderate to severe asthma that I would always refer back to throughout the project.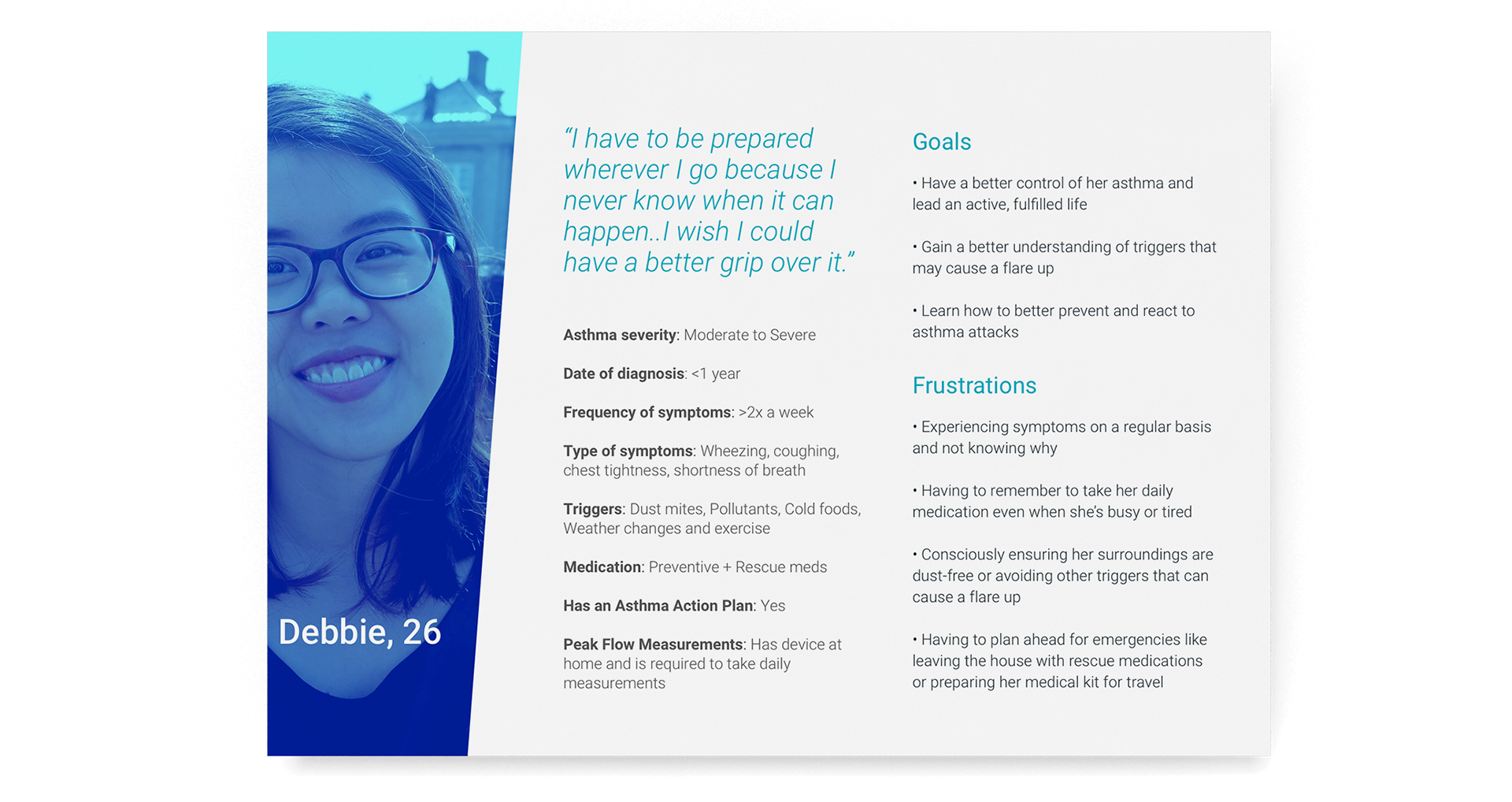 Given the time constraints of the project, I had to decide (from my user research as well as understanding about asthma management) what were the essential features that the app would need to have as a MVP. 
Once that was done, I created an application map to lay out the overall structure of the app.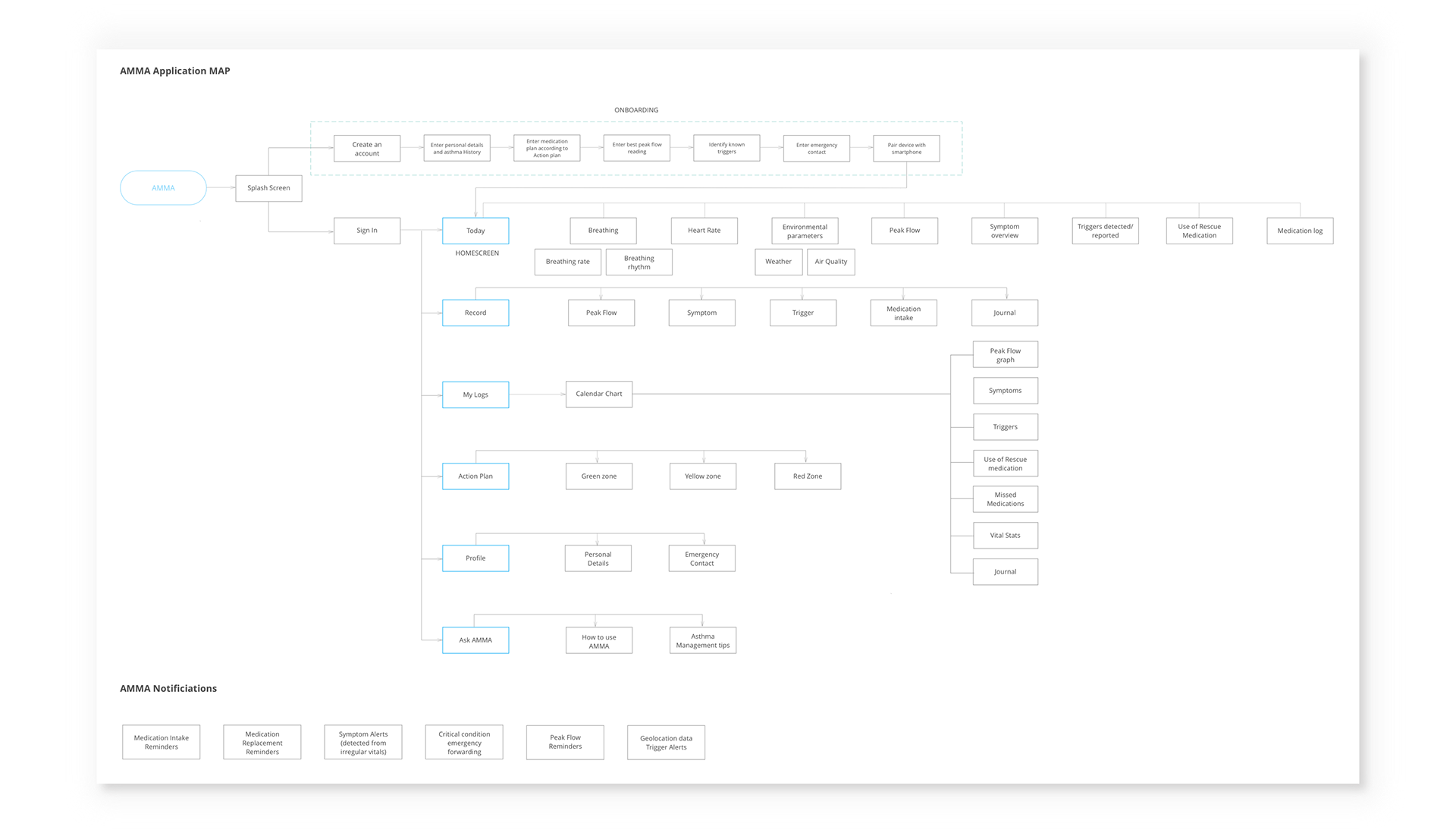 Wireframes
Once I had an idea of all the pages that had to be designed, I started sketching out explorations of the app's key screens, before creating detailed wireframes following Google's material design guidelines closely.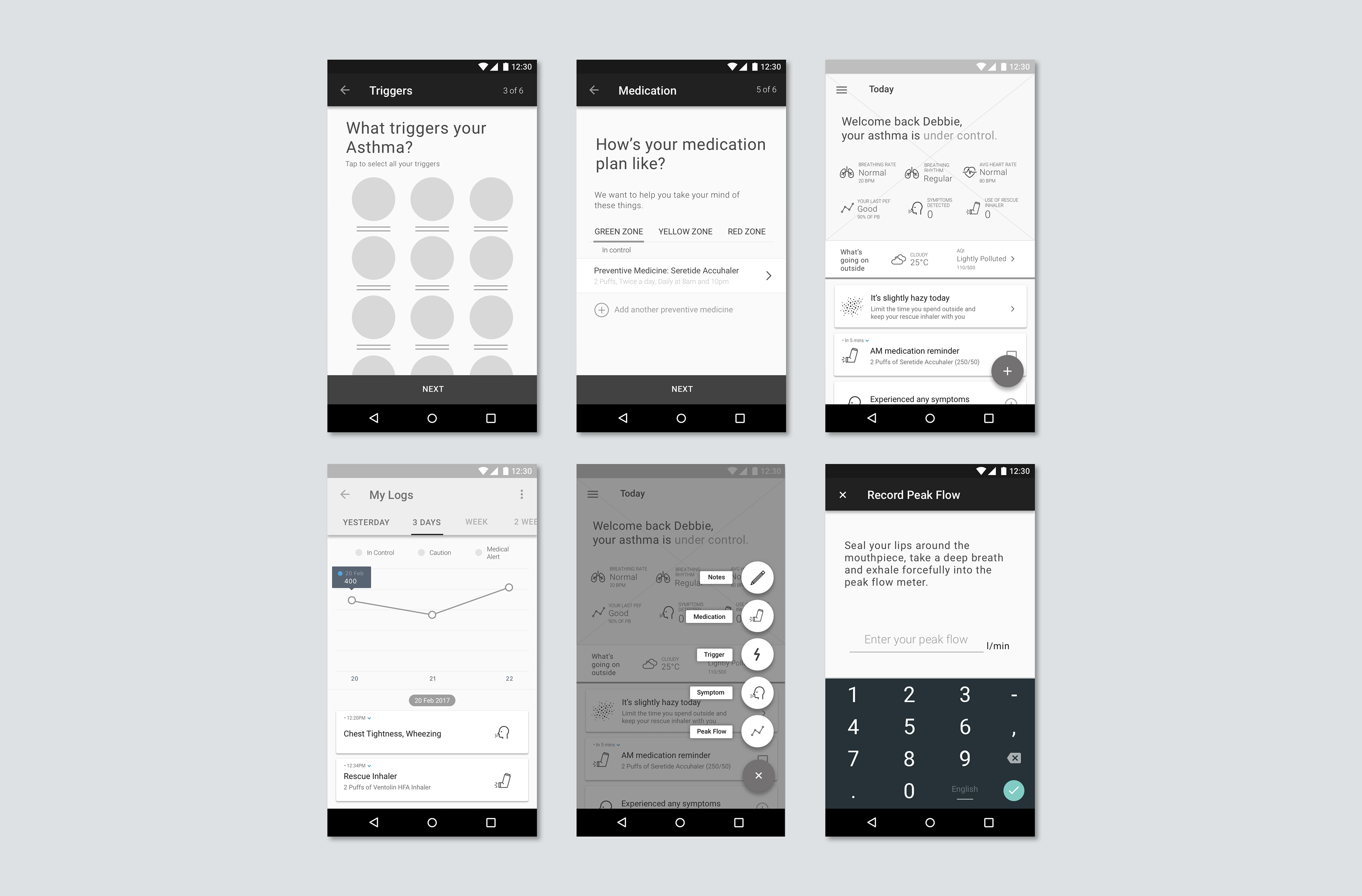 Brand and Visual Design
Next, I designed the app's brand and UI with key words like friendly, personal and reliable in mind, while adhering to Material Design colour and graphic guidelines.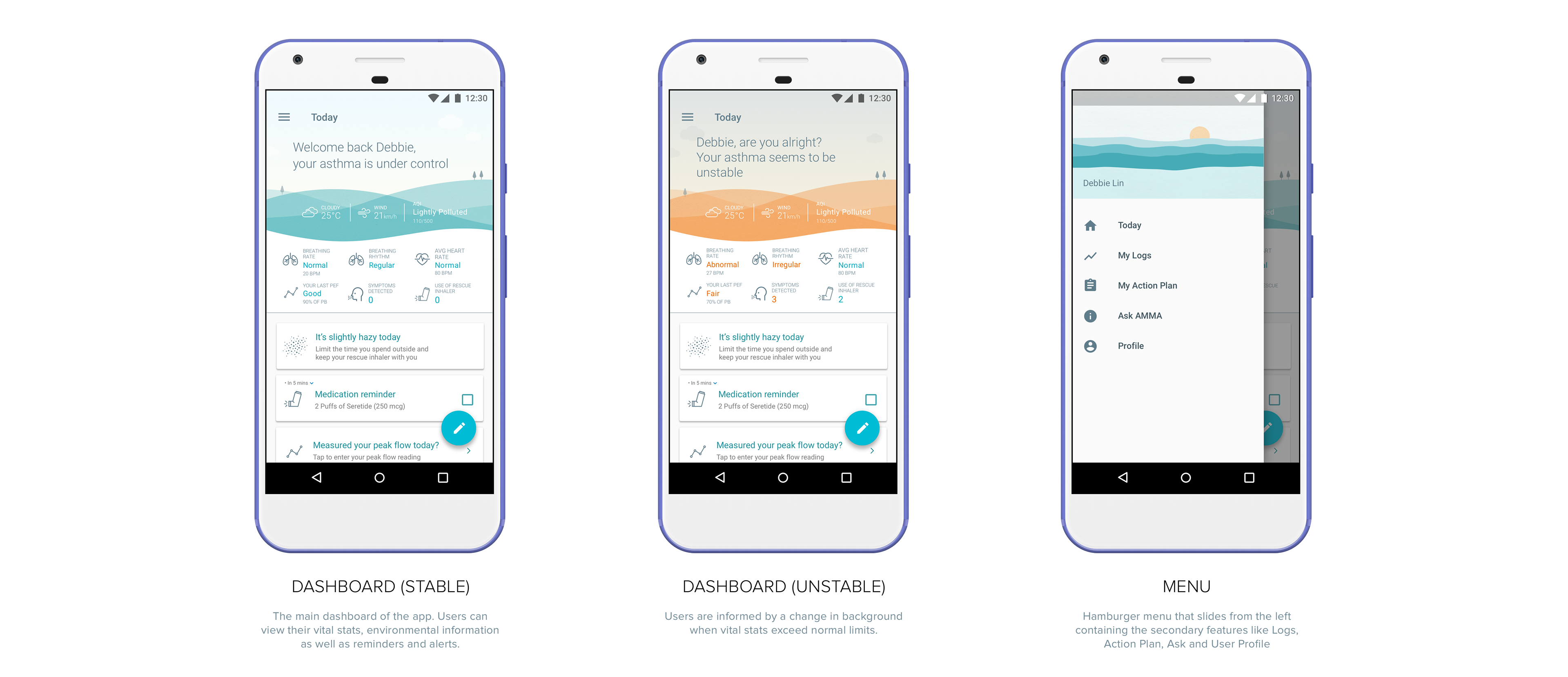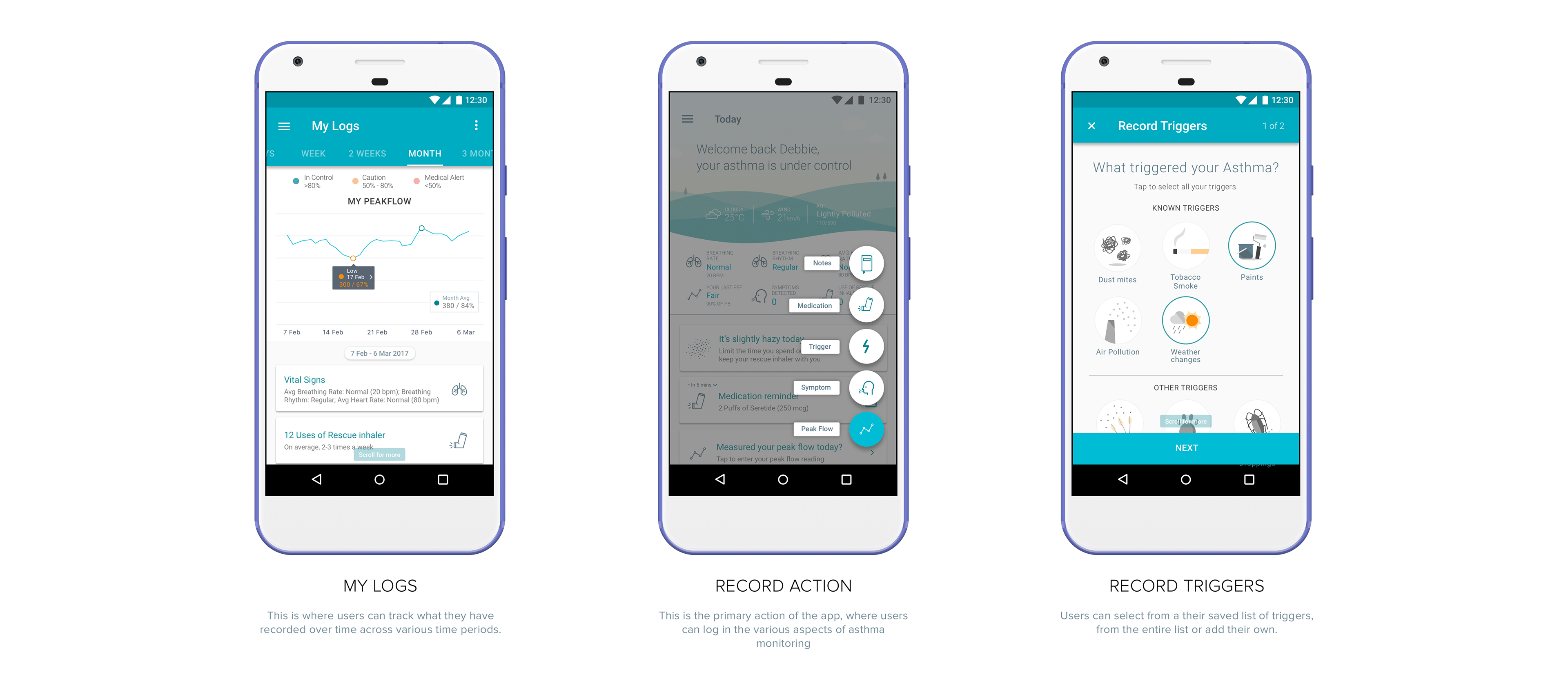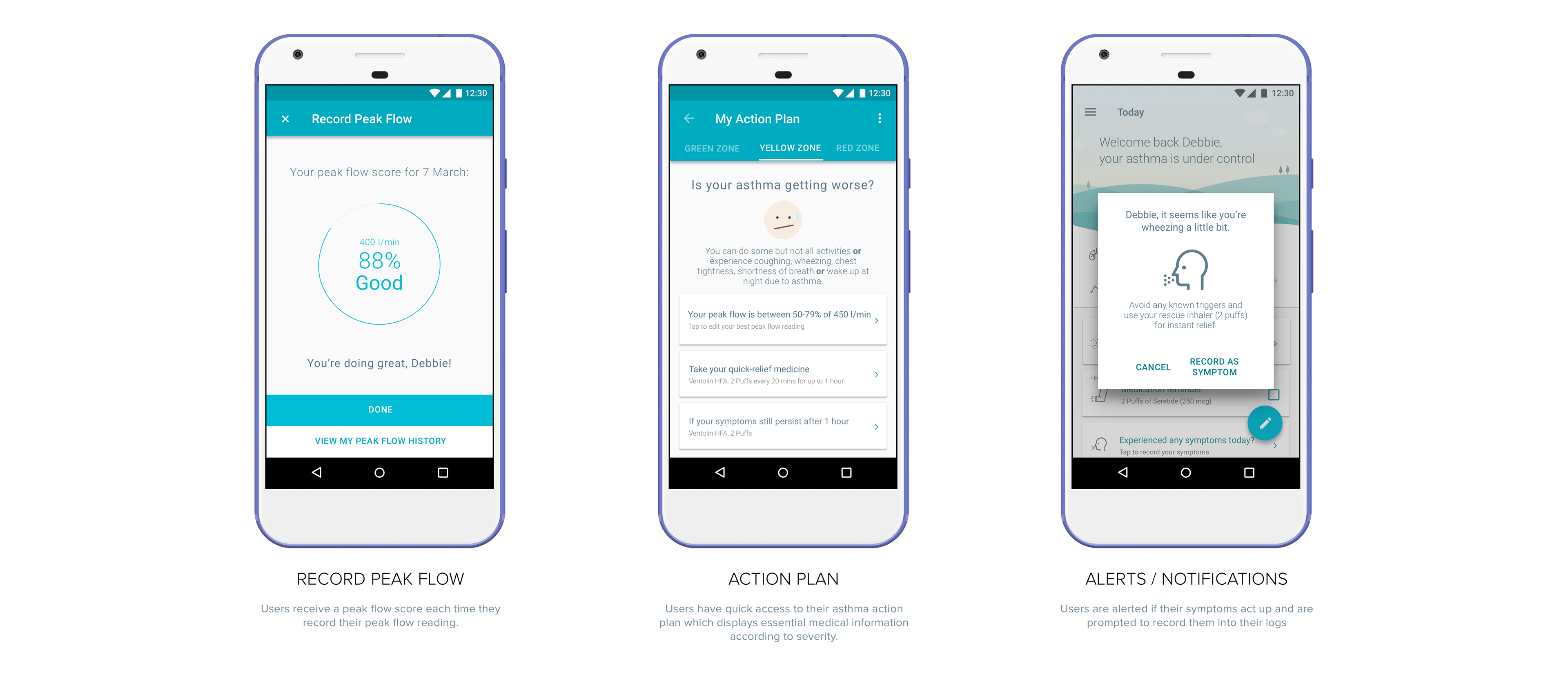 Prototyping and User Testing
I created a high fidelity prototype in Invision and conducted remote testing through Skype with 4 participants who went through a series of tasks. 
• In general, participants could complete the tasks with ease and find the requested information.
• They found could understand the information on the dashboard at a glance and found the tone-of-voice personal and friendly.
• It will take more time to get familiarized with the app e.g. participants mostly were not familiar with the floating action button and clicked on the actions in the dashboard notification instead. 
Being my first ever experience with UX design, the AMMA project presented a steep learning curve for me - adopting the design thinking approach for the first time in a subject I had no knowledge in, and designing with Material design. While challenging, it was also extremely fulfilling.
The main takeaway I had from this project was the importance of user research, which really helped me empathise with the users I would be designing for, making the process feel more tangible and like a real problem was being solved.